INTERNATIONAL ONLINE ORDER SHIPPING
POPBAE.COM strive to deliver fast all over the world to inspire you to your amazing active lifestyle!
Our warehouse team will ship your orders as soon as possible within 1-4 business days.
FREE SHIPPING: ALL OVER THE WORLD ON ORDERS OVER $100, US OVER $75
The fee for this differ from country to country and will be shown in the checkout. But it is very affordable to all available countries. If you can´t find your country in the list, please send us an e-mail and we will sort that out! If you have any questions please contact us at: service@popbae.com
POPBAE offers free shipping for online orders over 75 EUR / USD (US) 100 EUR / USD (Other countries) prior to tax. We choose International Postal/Express Service such as E-parcel / SF Express / UPS currently. The delivery will normally reach all available countries in 4-35 working days.
That means less money for shipping and more money for outfit!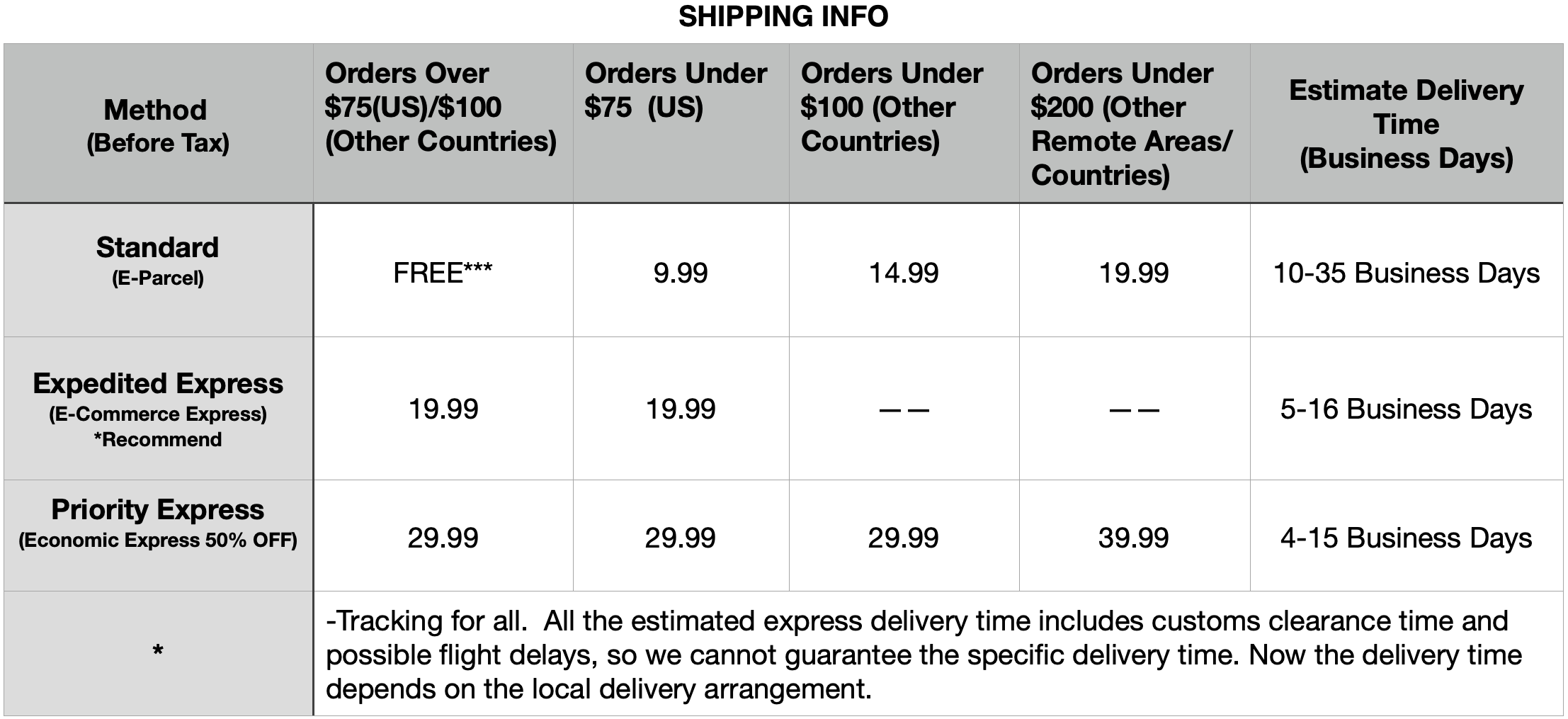 1)Express Shipping is not available for P.O. Boxes and APO/FPO addresses.
2)Affected by the coronavirus and airline traffic control, during this period the shipping company cannot guarantee the shipping time as usual. It might take one week or more than before.
3) Shipping Time does not include a 1-4 business days processing period required to process your order from the date your order is placed.
4) We will make every effort to deliver your package ASAP. However, additional time may be required due to invalid addresses and custom clearance issues.
5) If there is any shipping issue with your package, you must contact Customer Service within 90 days after your order was placed.
6) We're improving our delivery process and to make your packages even safer in this special period, all of our products' outer packages have been second sterilized, so there may be a 1-3 days delay in processing your orders.
We're adapting our business during this challenging time.
Affected by the coronavirus and airline traffic control, the shipping company cannot guarantee the shipping time as usual. It might take one week or more than before.
Other factors contributing to delays include fewer domestic flights, international delays, and the influence of the social group activities, so the time delay maybe even more.
We are doing everything possible to keep delivering during the Coronavirus period, also we use several ways to deliver for now. (SF Express / UPS / National post and the delivery agency ).
The delivery time and service of the shipping company had been affected for a while, now everything will gradually return to normal.We will also manually confirm with the shipping company of your package situation and inform you during the shipping time.
We appreciated your patient and kind understanding.
Please note that local taxes and other charges may occur when shipping internationally. During "free shipping campaigns" other terms and amount may appear.
Your order will be delivered to the address entered when placing your order on the site.
It is great to enter your email for receiving the order confirmation and further notification from POPBAE.
Make sure you enter the correct address. if you have entered an incorrect address, please contact us: service@popbae.com