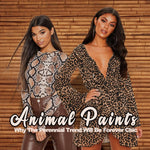 From leopard-print to tigers and cheetahs
Trends come and go (and come and go), but there are some things that never go out of style. They may be more popular one season than another but, on the whole, they are forever pieces that form the cornerstones of our wardrobes.



And this season, amid all the ideas that will have their five minutes of fame, we saw the return of the leopard-print coat. It's a piece your mother and grandmother probably wore before you, and yet it still feels relevant. If you buy one now, I bet you'll be wearing it for years to come (and maybe your child will nick it from you, too).

The Animal Print Pieces Your Fall Wardrobe Needs
Animal prints have long been a wardrobe staple for stylish women, but the trend is in full force for fall. The leopard slip midi skirt may have reigned supreme for two summers in a row, but that was only the beginning of what we're calling the Great Animal Print Revival. From luxe leopard to snake print overload and newcomers including cow and tiger, there are endless options to take your look to the wild side this fall. Whether you're on the prowl for a leopard jacket or a cool pair of snake print boots, click through to shop the best pieces for fall.